What Is a Power Animal and Do They Exist?

Have you ever heard about the existence of a Power Animal?
Probably not. Neither had I until 1.5 years ago when I participated in Michael Harner's Basic Workshop – The Way of the Shaman.
What is a Power Animal?
Power Animals come to empower you, enhancing your life in every way. A specific power animal can arrive to assist you with an issue that is very unique to you. They stay with each individual, adding to their strength and protecting them from illnesses, much like a guardian angel. They accompany you through the challenges you encounter in your life. Each power animal you possess increases your strength, preventing illnesses or negative energy from entering your body. Its spirit also imparts the wisdom of its kind.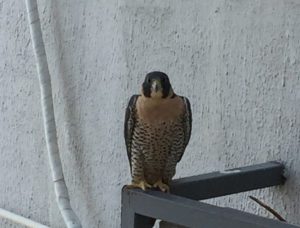 This guide walks with you throughout each lifetime. A sacred and eternal bond exists between you and your Power Animal. It holds your inner truth and can remind you of who you truly are. If you have faced struggles or pain of any sort, you might forget your truth. Reconnecting with your Power Animal can not only restore it, but can also help you overcome fear and doubt, and align with your life purpose.
A Power Animal may be a mythical creature or a natural one. You might already have a sense of who your power animal is, and deepening this connection and integrating your Power Animal into your being will bring you empowerment and clear vision as you move forward.
So, do Power Animals exist?
Absolutely! The eagle in the photo appeared to me just days before I traveled to the US for the workshop mentioned above. Clearly, at that time, I didn't recognize the significance of this eagle in my life as it sat in front of my window, staring at me.
And guess what, during the process of discovering my Power Animal, it turned out that among others, the Eagle is one of my Power Animals…
November, 2018