What is Animal Communication?

You can't say this never happened to you! You happen to think of someone and at this moment this person calls you? Or you feel close to a person/animal, and suddenly through the distance you feel that he/she is not doing well?
We dismiss this as intuition, but it is actually telepathy. It works from human to human, from animal to animal, and also between human and animal.
Animal Communication is based on telepathy (Greek: tele = far, pathos = suffering, disease, feeling, passion), an ancient ability of communication, which is used by ancient groups (such as the Aborigines) and has been/is innate/natural to all humans. However, by the dominance of today's verbal language, it gets pushed out of memory in the process of growing up. Telepathy transmits from heart to heart feelings, perceptions, images, thoughts and words in their most multi-faceted form.
In addition to the obvious body language of a dog, waving her/his tail, or the begging of an animal at the dining table, our animals send us feelings, perceptions, images, thoughts and words that we think we imagine and therefore dismiss.
Are you sure that you are the one who decides when you give your animal a treat? Or may it be possible that your animal is sending you this "message"? Have you ever wondered if your animal wants to tell you something when he/she pees on the carpet or chews up the new expensive shoes?
Animal Communication allows us human beings to understand what is going on inside the animal - physically, as well as mentally and emotionally.
Missing animals can be found (if they wish so), and also animals who have made the transition, can be contacted to make sure that they have arrived well on the "other side".
In general, it helps us to understand our animal better and to live peacefully together.
You will see how much your relationship with your animal improves as soon as he/she has been "heard". Our animals look forward to the communications with excited anticipation.
Note: Animal Communication is not to be confused with an obedience training in which submission is taught.
Also, Animal Communication does not replace a visit at the vet.

Frequently Asked Questions

1
How does this communication work and what can I expect from it?
In each animal communication, I first feel inside the animal and get a sense of its current state. I get an impression of the nature and character of the animal, his state of mind and how he/she feels in his/her body.
You will receive answers to questions about wishes, problems, health, and much more.
You will get a detailed insight into your animal's point of view, what moves and motivates him/her, but also what he/she understands and does not understand.
Animal communication can also help you to:
prepare your animal for a longer absence (for example: vacation)
smoothen the way for an operation, for example castration
adapt your animal for a move
Once you have experienced how your relationship with your animal changes and intensifies after a communication, you quickly dismiss your doubts about whether animal communication really exists and works.
2
Is it possible to talk with deceased animals?
Of course! Just because they are no longer physically present, that does not mean that they are not still mentally present. For animals, the process of transition is a very ordinary process and "life" goes on for them, since they have only left their current physical body.
3
Do the animals always answer questions and always tell the truth?
Most animals are extremely happy to communicate with somebody and answer gladly and in detail. But, there are topics that your animal may not want to talk about. This can be due to the fact that animals also have their own characteristics and do not want to give information about everything or fib with certain answers, because the topic is causing them discomfort. Also, it may be that the answers are quite different than you wish or expect.
However, we must accept and respect this.
4
Is communication with all animal species possible?
Yes, the communication is possible with all animal species, whether dog, cat, mouse, tiger, eagle, elephant or ant, they all communicate the same way. Wild animals may not be so talkative at first, because they are not used to dealing with humans; and therefore, may be more skeptical at the beginning, and their responses may be meagre.
5
My animal and I live abroad. Is it possible to communicate with an animal from abroad?
Of course! Telepathic communication is independent of verbal language and place. It is a language of feelings and impressions, which I translate into the respective language during the communication.
I offer communication in German, English, Spanish and Hungarian.
6
What does a conversation with my animal cost?
You can choose between below options according to what is more convenient for you:
Consultation via WhatsApp/email
5 questions - $45
One-time additional clarification free of charge
Consultation via toll-free Telephone/Internet conference call
(Recording of the session as download provided)
30 minutes - $65
1 hour - $120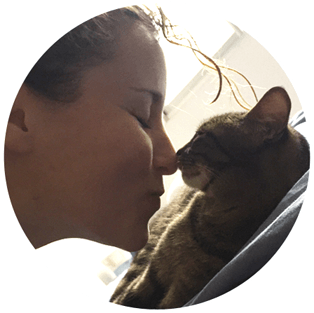 About me
I was born in June 1987 in Germany. After high school I graduated as banker, as I was told that this is a good basis for a successful career, and then worked in the financial services industry and studied Business Taxation studies on the side.
At the end of 2012 I moved to warm Panama, as I felt that it was time for something new. There I worked for various multinational companies.
Then, 2016 was "the" year. In addition to the passing of my beloved mom and the negative impact the Panama Papers had on the company I worked for, I reexamined what I expect from life, how I spend my time and how I am fulfilled.
Although aware of Animal Communication for several years and experience with various Animal Communicators speaking with my animals, it had not occurred to me until then that Animal Communication and working with animals could be my destiny. Of course, I wanted to be a veterinarian in elementary school, but I soon abandoned the idea, because of having to put animals to sleep from time to time.
So I decided to take an intro course with my mentor, Maia Kincaid, to get a first insight into Animal Communication. I noticed very quickly that Animal Communication was my thing and that I have a natural ability to receive the messages and feelings of animals clearly.
When I first achieved connection with an animal, I was fascinated by the feeling of how warmth spread around my heart and filled me with unconditional love and joy. It was just indescribable and I decided that I never wanted to miss this feeling again.
And so I began my one-year Animal Communication Certification Program, and now I am here to serve as an interpreter between you and your animal, so that you can also experience your animal's unconditional love.
Because "until one has loved an animal, a part of one's soul remains unawakened" (Anatole France).
Yours, Lara
Testimonials

---

Lizi is a very fearful rescued indoor cat that I am living with for 4 years. I asked Lara for help to solve Lizi's fear and to find out the reason for peeing on the carpet, which she did not do for 4 years, only started recently after we moved to a new apartment. It turned out that Lizi is afraid because she fears that I will leave her, and she is afraid that someone will take her away from me, and she pees on the carpet because the long-pile carpet is so "disgusting". We told her that she would never have to leave me and that I love her very much, and we will replace the carpet with a plain-woven one. She stopped peeing on the carpet and became braver, so much, that she even ran out of the apartment several times because she wanted to go on an adventure. Lara helped her again, telling her that it was dangerous if she ran out of the apartment because she could get into trouble, and since then, even if the door is open, she does not even go near it. Disciplined, she just sits and looks at the open door and does not move.

Then the new move came, which Lara told her about, prepared her for how good it will be, and the fearful kitty became more balanced in the new apartment than I have ever seen her before, and she is very happy! She hid a little during the packing, but as soon as the packing was over, she came to romp, play, cuddle and explore. I have never seen this from her before, even though we moved 3 times.

Lara is awesome! She really knows and understands what the pets are saying, and the pets change in a positive way after the conversation, which is very spectacular! Anyone who can, talk to Lara! It is an incredibly good experience and I can see that the relationship with my cat has become closer and more balanced since Lara helped us. I am very grateful to Lara!

---

Lara has brought a new dimension into our lives.

Thanks to her, I was (and I am still able) to communicate with my beautiful, dear and wise Mykoto.

With Lara's communication, Mykoto and I had a much deeper understanding of each other. As he recently passed away, with Lara's help, it is possible for us to say all the things we could not before. A real blessing!

All of us who lost their beloved furry friends know how devastating and painful it can be. Mykoto and I were and are so lucky to have Lara in our lives and beyond.

I wholeheartedly recommend Lara to anyone who wishes to talk to their darlings.

She is a rare talent with a beautiful heart!

---

Our family of 4 animals loves Lara!

We talked to Lara several times and we are incredibly grateful to her! We were able to solve a lot of problems with her help. We can say that Lara has a central role in maintaining our family peace.

It's a fantastic experience to get to know my cats' personalities, thoughts and needs. Lara is excellent at interpreting not only the answers and requests of my cats and my dog, but also the personalities of them. Every single call is incredibly exciting! Thanks to Lara, I got to know their needs better, it made me confident, so we can make much better decisions for their well-being on a daily basis.

With the help of Lara, you can ask your pet anything: what they prefer to eat, what they would like to play with, why they don't pee in the litter box, what they think of the other members of the family, and if they open up to you, they will even give you useful life advice. Our animals are extremely intelligent and it is a huge asset that we can talk to them through Lara.

My 3 cats, my dog and I will be talking to Lara many more times, and I'm sure that your pet will also be looking forward to getting in touch with you through the help of an Animal Communicator!

---

After more than 13 years spent together, a few months ago I had to let my old and sick dog go. In addition to his absence, there were also a lot of questions about whether I had made the decision about putting him to sleep in the correct moment, whether he managed the transition or whether he had a happy life with me. I wanted to know what he is feeling, if he was thinking about me and the years we spent together... then I decided to find help to communicate with him. Thank you very much Lara for giving me answers to my questions with your communication. Although unfortunately in this physical world I can no longer be with Rocco, it is reassuring to know that at the end of a beautiful life he could pass in peace and dignity, and his love and attention remain always with me.

---

Really and truly I do not even know where to start when it comes to Lara and animal communication. You might be familiar with animal communication or maybe it's something completely new to you… You may experience issues with your furry family member or maybe you really just want to know if they are happy, no matter what it may be – Lara is definitely the person you want to reach out to. I have known Lara for a long time and I do not even know where to start when it comes to her "chatting with my pets". I have countless examples and happenings we have gone through together and I would not know what to do without her and her outstanding animal communication skills. Having said that I would love to share a little bit about the story of my Rottweiler girl Mausi. I relocated from Panama to the UK and I brought my 9 year old Mausi with me. Whomever had to relocate a pet knows what a nerve wrecking process it is. Mausi even had to stay in boarding for 3 months and you can imagine what a confusing and stressful time it was for her… Not even to mention a 12 hour flight and lay over in Amsterdam. Lara walked us through the entire process, kept communicating with Mausi and always managed to calm her down and re-assure her that everything will be ok and that she will reunite with me in no time. I don't think that everything would have gone so smooth without Lara's amazing help. This is really just one of many examples of Lara's above and beyond work. In the future I would love to share some more of my experience which include rescued dogs, difficult rehoming stories, the passing of one of my beloved dogs and even Lara training me on animal communication. So please stay tuned and as mentioned earlier, whatever situation you may have going on with your pet or even if you just want to find out what all this animal communication is actually about – Do not hesitate to get in touch with Lara!

---

Thank you! It is great to talk to our animals that way.... I have a cat myself and Lara gave me a good look into Shila's cat life. Despite the distance, she cas able to tell me what it looks like at home! That can not be a coincidence.... I'm thrilled and already made my friends pretty curious about Animal Communication.

---

Some People are natural-born Communicators, and some have to work at it. From the first time I spoke with her it was clear that Lara is the 'real deal'! Her inquisitiveness produced a reading for a friend's Horse that was spot-on (much to his amazement and delight…and the Horse's!) and she helped me with an on-going behavioral problem with one of my Dogs. Lara's confidence is evident, her voice is strong, and her innate connection to animals make her a Communicator you can count on. My Dog, my friend's Horse, and I all recommend her highly!

---

I believe in Animal Communication. The animals also need someone to interpret their feelings and sometimes, in the daily life, you forget that they are also living beings like us... with good and bad days. Knowing the needs of "Ginger" has helped me a lot to improve our communication.

---

Being able to communicate with your pet is something sensational - to be able to understand what makes them happy, sad or annoyed. And knowing this improves your relationship with your pet on all levels. Knowing what "Cocho" feels and thinks about us, has reinforced our understanding of what makes him happy and correct what makes him sad or annoyed. We have improved our connection between pet and person, even being true friends.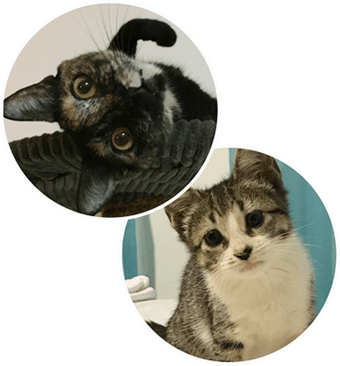 Contact
If you have any questions or would like to leave a comment/feedback, please send me an email to info.cwyp@gmail.com. I am happy to answer!

And if you are ready to chat with your pet, please do not hesitate to ask for an appointment.